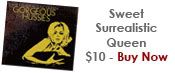 WAYS TO STAY IN TOUCH

.:: SOCIAL NETWORKS ::.
FACEBOOK | TUMBLR BLOG
YOUTUBE | TWITTER
MYSPACE | iLIKE
REVERB NATION

.:: FREE MUSIC ::.
TGH PODCAST
SONG BUSKERS
NEW MUSIC MONDAY

.:: MUSIC DOWNLOADING ::.
iTUNES | RHAPSODY
AMAZON



The Gorgeous Hussies stay energized on tour with Roaring Lion Energy Drink!




Thank You! Tour Fundraiser

We wanted to give out a very special thank you to everyone who donated to our 2010 Tour Fundraiser. We are amazed at the generosity of our fans. We were able to generate nearly $1200 thanks to the following...

Crashing At Dawn
Clayton, Howarth & Canon Attorneys At Law
Eddie
Zach Gochberg
Frank Schwarz
Kurt Anderson
Juana Williams
Diana Goebalt
Ian van Natter
Laura
Elen

---

STREET TEAM

Join The Gorgeous Hussies' Street Team and help spread the word about upcoming concerts and events. You'll earn free tickets to concerts, CDs, DVDs, shirts, and other cool swag from The Gorgeous Hussies.

Street Team'rs hang up posters and fliers around their hometown for upcoming concerts, post video and links on their online social-networks, and are generally available to help spread the word on The Gorgeous Hussies.

We're only looking for people who are excited about The Gorgeous Hussies and genuinely want to help. If this is you go to our Street Team page.

---

((( Podcast )))

The Gorgeous Hussies' podcast address has changed to:

http://feeds.feedburner.com/TheGorgeousHussies

Make sure to update your RSS feed to this new address! If you don't want to subscribe to the podcast you can still stream all the podcasts on the new Tumblr page at:

http://thegorgeoushussies.tumblr.com

View Feed XML

---

Sweet Surrealistic Queen
AVAILABLE NOW!
The Gorgeous Hussies' new 10-song album Sweet Surrealistic Queen is now available for sale on their merchandise page! Also available for download on iTunes and Amazon.

Listen to all the songs here.

The album has been 2-years in the making and features new studio versions of Pop Chanteuse, Weigh It Out, In Our Basement, Harder Now To Recognize and more!


---





Mondays Suck.


The Gorgeous Hussies are making Mondays suck a little less by giving you a free TGH song download. Start looking forward to Monday.

Get new music by The Gorgeous Hussies each Monday by joining their newsletter here.



---

The Gorgeous Hussies Release First Nationwide Single!

BUY | DOWNLOAD iTUNES

Slothtrop Music is proud to announce the July 28 national release of "Pop Chanteuse," the first single off the upcoming "Sweet Surrealistic Queen" release from Utah based alternative jam band The Gorgeous Hussies. Produced and Engineered by the band, "Pop Chanteuse" showcases the sublime songwriting and exquisite musicianship of this exciting trio and gives a few hints about the quality of the upcoming full release.

Featuring 4 songs "Pop Chanteuse" gets off to a raging start with the nineties alt-rock influenced title track co-written by veteran songwriter Sam Potter. "Pop Chanteuse" leaves no doubt that Britney, Lindsay, X-Tina, and Miley are all Gorgeous Hussies indeed. Continuing to push the musical envelope they then give a funked up, striped down treatment to everybody's favorite hussies the Spice Girls by performing an awesome version of "Wannabe". Next they mix a little Phish with Pavement to create an original recipe for their final two songs "Sunrise Summertime" and "Jamheim Steamroller".

Engineered by Hussies drummer Ryan Smith and mixed by indie rock veteran Matt Winegar these four tracks feature Jordan Olsen on guitar and vocals with John Chatelain handling the bottom end and additional vocals.

Already receiving radio airplay and media support "Pop Chanteuse" should introduce The Gorgeous Hussies to a national stage. For more information on, or to hear samples from "Pop Chanteuse," visit www.myspace.com/thegorgeoushussies or www.thegorgeoushussies.com.

---

The Gorgeous Hussies Release First Ever Live DVD!

BUY | DOWNLOAD DVD | DOWNLOAD MP3s iTUNES

Bel Giro Films and NARRL Music is proud to present "Luscious Ladies" a live concept performance DVD by The Gorgeous Hussies. It was filmed live in front of an audience on November 22, 2008 in Davis County, Utah.

This is the first DVD release for The Gorgeous Hussies and visually demonstrates the band's unique live performance which is a melding of catchy melodies, massive guitar rock, sweaty bearded men, and all held together by ingenious use of on stage technology.

Meet the Luscious Ladies

Penelope can't believe she just had a text-message fight with her ex. Surprised at how clearly the barrage of 160-word missives outlined the flaws and failings of their relationship and realizing just how absurd and silly the entire exchange was, she transcribes the fight and posts it on her blog.

Sophie won't ever talk about her troubles. Refuses to appear weak. Will not give credence to the thought that interminably sounds in the back of her mind, an inconvenient clarion that shatters her confidence, her greatest fear incarnate in 6 simple syllables: I can't do this alone.

Genevieve volunteers as a driver for the Sundance Film Festival. She relishes the parties, the atmosphere and forges deep friendships with the other volunteers. But she can't help but feeling that ultimately they are all profoundly alone. Living far from home in a quasi-utopic indie-industry phantasm she comes to the cold yet comely comprehension that they all just want to call each other home.

Candace loves the band. She also loves the internet, primarily for the myriad outlets through which she can stay close to them. Myspace, Facebook, Twitter, Flickr, Youtube all form a digital nexus of permanent url's and partial bonds, progressively linking her more and more intimately with the band's online persona. The band enjoyed the initial attention, but are beginning to wonder if their #1 fangirl isn't becoming a little creepy.

Check The Art

Artists Julia Green and Ryan Johnson from Boise, Idaho teamed up to create the artwork for Luscious Ladies. They used a mix of watercolor and digital illustration to create the brothel scene for the cover of Luscious Ladies. Click on the images below to get a closer look...


---

The Gorgeous Hussies'
Song Buskers:
Just waiting for your songs.
Do you have a favorite song? Have you ever wondered what that song would sound like performed by two moderately-bearded men playing on a street corner? Let us help you out.The Gorgeous Hussies announce a new project entitled Song Buskers. 'Busking' is the appropriate, albeit pretentious, name for street performing. Jordan and John have begun busking before shows and are looking for new songs to perform on the street. We are asking for your help suggesting songs for us to cover. They don't necessarily need to lend themselves to being played acoustically. We enjoy challenges.

GET MORE INFO HERE